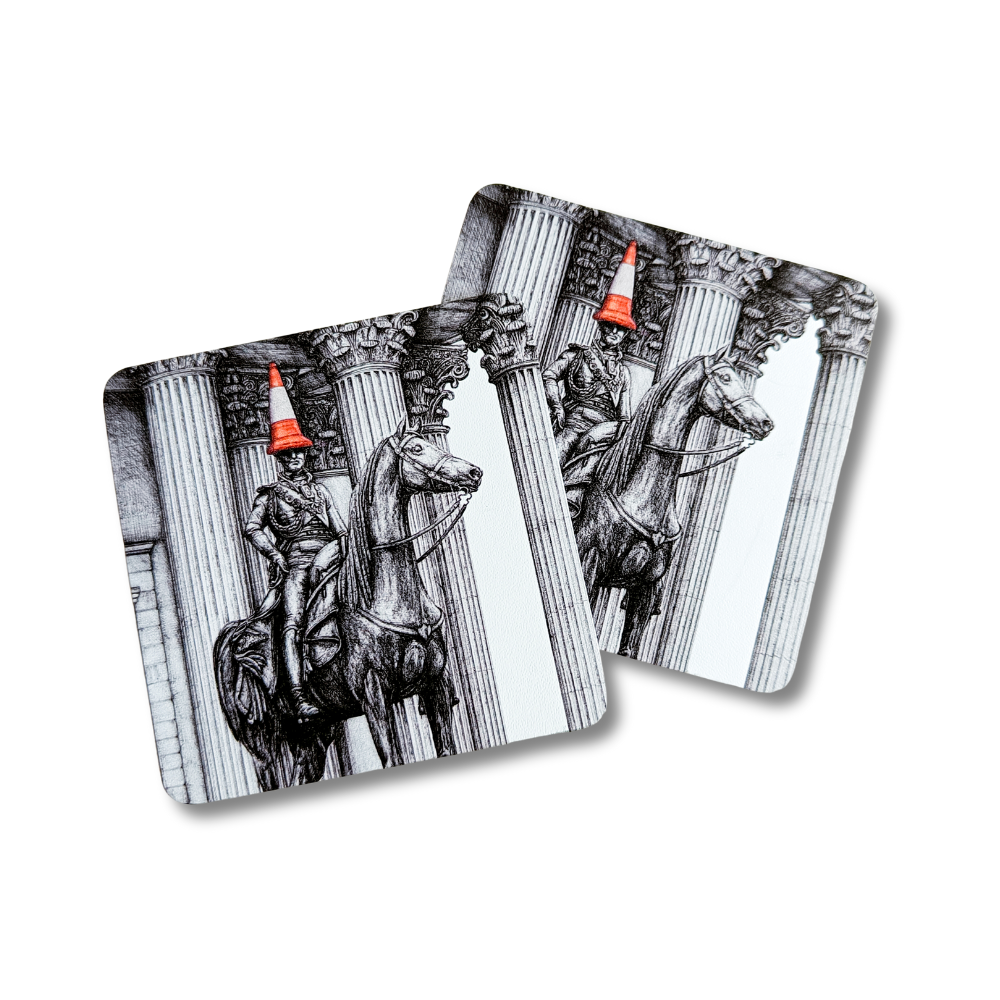 Jennifer Court: Duke of Wellington Coaster
Pickup currently unavailable at Kelvingrove Art Gallery & Museum
Jennifer Court: Duke of Wellington Coaster
Kelvingrove Art Gallery & Museum
Pickup currently unavailable
Argyle Street
Glasgow G3 8AG
United Kingdom
+441412769520
Add a touch of historical charm to your surroundings with our Duke of Wellington Magnet. Featuring a captivating depiction of the Duke of Wellington statue, this magnet pays homage to the iconic landmark and its enduring legacy.
Elevate your beverage experience while celebrating Glasgow's iconic Duke of Wellington statue with our Duke of Wellington Coaster. This exquisite coaster features a captivating depiction of the statue, paying homage to its historical significance and adding a touch of charm to your tabletops.
Crafted with meticulous attention to detail, this coaster showcases the Duke of Wellington statue in all its glory. From the intricate contours of the sculpture to the noble stance, the design beautifully captures the essence and grandeur of this iconic landmark.
To add a playful twist, the coaster also incorporates the Duke's famous traffic cone, a whimsical symbol of Glasgow's lively spirit. This delightful addition infuses the design with character and uniqueness, making it a conversation starter and a cherished piece of functional art.
Crafted from recycled leather, this coaster embodies the ideals of re purposing and reducing waste. Through a meticulous process, discarded leather materials are collected, cleaned, and transformed into a beautiful and functional accessory. Each coaster carries a unique blend of colors and textures, showcasing the diverse origins of the repurposed leather. By choosing this coaster, you actively participate in the circular economy, supporting the preservation of our planet's resources and making a positive impact on our environment.
The compact size of the coaster fits perfectly on any tabletop, making it an ideal companion for your morning coffee, afternoon tea, or evening refreshments. It also makes for a thoughtful gift, appealing to history enthusiasts, art lovers, or anyone who appreciates the Duke of Wellington's enduring legacy.
Celebrate Glasgow's cultural heritage and add a touch of sophistication to your living spaces with our Duke of Wellington Coaster. Embrace the charm and significance of this iconic statue as you savor your favorite beverages, knowing that you're capturing a piece of history with every sip