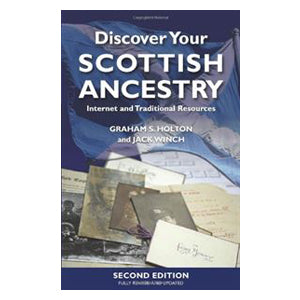 Discover your Scottish Ancestry by Graham S. Holtan and Jack Winch
Pickup available at Kelvingrove Art Gallery & Museum
Usually ready in 2-4 days
Discover your Scottish Ancestry by Graham S. Holtan and Jack Winch
Kelvingrove Art Gallery & Museum
Pickup available, usually ready in 2-4 days
Argyle Street
Glasgow G3 8AG
United Kingdom
+441412769520
Discover your Scottish Ancestry by Graham S. Holtan and Jack Winch
An illuminating guide written to assist you to discover your Scottish ancestry and family history. Fully revised and updated to take account of changes to resources and methods for researching your Scottish ancestry over the last few years. Accessible in style and comprehensive in coverage, the new edition of Discover your Scottish Ancestry by Graham S. Holtan and Jack Winch stresses the importance of traditional methods of family history research while also embracing the exciting possibilities afforded by new technologies, sources and developments in genetic science. Indispensable to both the fledgling researcher and the more experienced family history specialist in Scotland or elsewhere, Discover your Scottish Ancestry provides a guide to the very latest resources available to assist with research. Covering Scottish primary and secondary sources in full detail, Discover your Scottish Ancestry also provides illustrative case studies of family history research, lists of useful websites and archives, and family history organisations and societies.
Highlights of Discover your Scottish Ancestry new edition:
*An updated chapter dedicated to aspects of recording, scanning and storing information *New insight into accessing English, Irish, emigrant and immigrant records.
*An update on developments in DNA genetics of relevance to the genealogist.
*A substantial and broad-ranging bibliography essential for those who want to take their research even further.
Title: Discover your Scottish Ancestry
Author: Graham S. Holtan and Jack Winch
Format: Paperback
Pages: 205
Dimensions: 1.2 x 13.8 x 21.6cm
Publisher: Edinburgh University Press Ltd
Language: English
ISBN 978-0-7486-3919-9